ENGINEERS OF THE FUTURE
Yas Marina Circuit, in collaboration with Abu Dhabi National Oil Company (ADNOC) , bring you Yas in Schools, a youth-focused initiative that offers schools a pathway for project-based STEM learning programmes. Students, aged eight to 21 years old, learn essential skills across science, technology, engineering and mathematics in a fun and unique environment. Working together in small enterprising teams, students design, innovate, manufacture, test and race small-scale model cars to compete in school and external competitions. Yas in Schools aims to inspire and develop "The Engineers of the Future", equipping them with 21st Century skills and developing their passion for STEM subjects, while also providing teachers with exciting and easy-to-adopt themed programmes and resources for delivering a broad range of learning outcomes.
We have enhanced all of our activities at the circuit to operate under a number of government agreed principles to keep you safe. Please click here for all details.
3STEM PROGRAMMES
13YEAR HISTORY
450+SCHOOLS
50,000+ STUDENTS
AL DHAFRA CHALLENGE 2022: LET'S RACE!
Are you up for a challenge? It's time to showcase our bright young talent across Science, Technology, Engineering, and Mathematics in a fun and unique environment. Yas Marina Circuit, in collaboration with ADNOC, brings you Yas in Schools, welcoming students from Abu Dhabi's Western Region to put their skills to the test, using Fusion 360 CAD software to design their own competition cars. The top 20 finalists will be invited to Yas Marina Circuit to race off during #AbuDhabiGP weekend!
Participation is free
Boys & Girls ages 12-16 may register
Deadline for Online Submission - 21st October
Top 20 Finalist to be announced - 31st October
YAS IN SCHOOLS NATIONAL FINALS 2022
There were over 690 students from over 100 schools who took part in the finals, which were broadcast live on YAS TV, Yas Marina Circuit's official YouTube channel. Sidewinder from Hartwinder International School was crowned Rookie Champions, while Nautilus from JSS International School Dubai triumphed in the professional category.

Both teams will be competing in the upcoming F1 In Schools Finals.
F1 IN SCHOOLS WORLD FINALS 2021
In June 2021, Delta X-15 from Gems World Academy Dubai and Team Zenith from Hartland International School took part in the F1 in Schools World Finals.
Both schools secured their place at the World Finals after being crowned champions in the Rookie and Pro categories respectively at the 2020 Yas in Schools National Finals, which featured 245 students from across the UAE.
The F1 in Schools World Finals was made up of 43 teams in total, with representatives from countries including Brazil, Australia, Portugal, Ireland, USA, England, Scotland, Greece and Malaysia.
Team Zenith won the Sustainability Award, while the team were also nominated for two additional prizes – the Digital Media Award and the Sponsorship and Marketing Award.
ADNOC CENTRE OF EXCELLENCE
Yas Marina Circuit is the world's only Grand Prix circuit with a facility dedicated to the F1 in Schools STEM Challenge. The Yas in Schools Centre of Excellence is also home to Formula Ethara and the 4x4 Technology Challenge in the UAE. With an amazing view of our famous Formula One® track, it is a fabulous venue for school race days and is equipped with all the necessary programme technologies.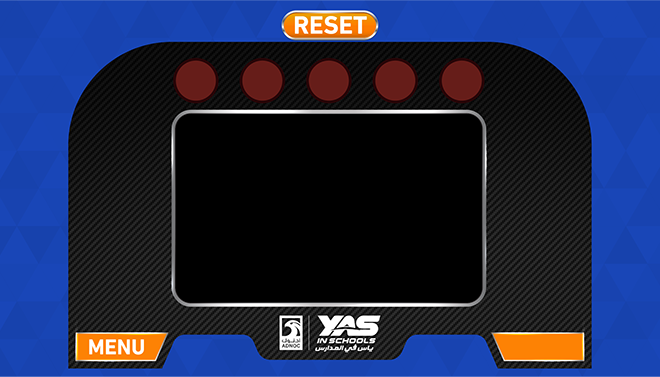 HOW FAST IS YOUR REACTION TIME?
Is your reaction speed as fast as an F1 driver? Can you beat your friends and classmates? An important part of the Formula Ethara and F1 in Schools programs is testing the child's reaction time. During the competition, there's a 20-meter racetrack and when each team is ready, there's a countdown with 5 red lights. The children need to press a button once the device says 'Go'. If the child presses it too early, it will have a false start.
Why not test your own reaction time with our free reaction challenge below.
Once you're ready to being, click reset
Wait for the lights to go out
Press space bar as soon as 'Go!' appears and see how fast your reaction time is
RESOURCES
We have all the resources your need to support you through each stage of our programmes.
CONTACT US OR SEND AN ENQUIRY
Contact us via email or call us for enquiries, stay up to date with upcoming events and challenges or let us know which programmes you are interested in and we'll get in touch.